UPCOMING EVENT
"Rome at Easter - 7 Day Pilgrimage" - Only a handful of places left.
Pilgrimage details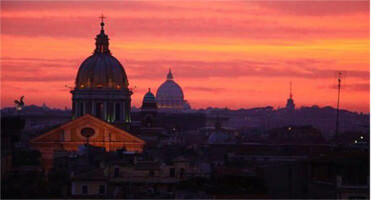 TOURS OF ROME & ITALY
Eternal City Tours is the leading Catholic tour company in Rome that offers the best quality tours, pilgrimages and education in the light of Catholic truth to fund Eternal City Education NPO.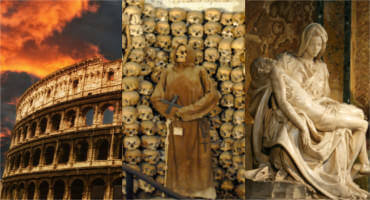 PACKAGES OF TOURS
Enjoy various groupings of our tours that enable you to experience a themed package of great Catholic Christian tour experiences that also offer a built-in discount. Discover our PACKAGES page.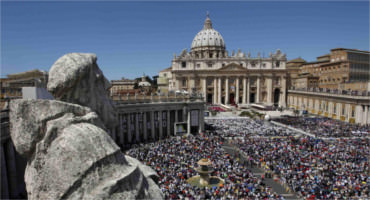 CHRISTIAN PILGRIMAGES
Aimed specifically at Christian pilgrimage groups, particularly from parishes and dioceses, these pilgrimage tour packages are for multiple days and explore the heart of Catholic Christian Rome.
MOST POPULAR EXPERIENCES

VATICAN & SISTINE CHAPEL TOUR
The Church has been in Rome for 2000 years with the body of St Peter lying under St Peter's Basilica and that of St Paul under the Basilica of St Paul. Book on this guided tour for access to the breath taking Vatican Museums, see Michelangelo's Sistine Chapel and be overwhelmed by the beauty of St Peter's Basilica...

CHRISTIAN CATACOMBS TOUR
The blood of the martyrs is the seed of the Church and nowhere has this seed been more abundantly sewn to bear rich fruit, than in Rome. Under persecution for three centuries, the sites of Early Christianity and their suffering and struggle here is an inspiration to the conviction, courage and supernatural strength of those before us...

COLISEUM & ANCIENT ROME TOUR
Once the centre of the known world, the Roman Empire stretched far and wide and still influences our lives today. Enroll on this guided tour to be taken through the history of gladiators, the Republic, crazy emperors and military prowess. This tour gives you access to the awe inspiring Coliseum, the Imperial Roman Forum and the Palatine Hill...

EASTER PILGRIMAGE
For Christians, Easter is the holiest time of year and commemorates the salvific Passion of our Lord and his glorious Resurrection from the dead. This climactic and pivotal event in the history of the universe and mankind in particular is a solemn and yet joyous time when we Christians can delve once more into the waters of our baptism and invigorate our faith. This pilgrimage draws on many of the relics of the Passion brought here to Rome by St Helena, Emperor Constantine's mother...

MARIAN PILGRIMAGE
The Immaculate Ever-Virgin Mother of God who has gone before us like the Ark of the Covenant into the promised land of heaven is not only the second Eve and Queen of Heaven, but is the Spouse of the Holy Spirit, Perfect Daughter of God the Father and Mother of God the Son. She more personally, is also our mother through whom all graces flow from God for our sanctification and growth as children of God. Book on this pilgrimage to grow in love and devotion for our mother - the model Christian...

CHRISTMAS PILGRIMAGE
Christmas is a time of great joy and good will to mark the birth of incarnate God into the world - a light shining in the darkness to bring all to the paradox of the baby Christ. What better place to celebrate and reflect on this mystery than at the heart of the Church - Rome - and allow the doors of your heart to be opened to Joseph and Mary looking for a place to bring forth Jesus into your lives. Take a look at what features we can offer for us to deepen our adoration of the Christ child in Rome...
TRIPADVISOR TESTIMONIALS
We've been with Eternal City Tours now on our 3rd tour in 3 years. The tours - specifically with Paul - are the most inspiring we ever had in any part of the world. He brings ancient and medieval papal Rome to life with amazing intensity and color. Thanks once more, Paul! Ling & Georg, Germany (KJV)
Thanks to our tour guide, Paul; my husband and I had a wonderful learning experience touring the Roman Forum and the Vatican City Museums. Paul is extremely knowledgeable on the fascinating history of Ancient Rome and the early Renaissance religion which made the tour that much more interesting and exciting. I highly recommend Paul and Eternal City Tours to those seeking an expert tour guide. He is also very sociable and takes time to answer any questions you have. Rita, New Mexico (NIV)
The tour of the Forum was truly an enriching experience due to the expertise and knowledge of our guide. The guided tour was personalised and inclusive of all. The guide engaged participants encouraging inquiry and acknowledging thoughts and reflections. We walked with the Etruscans and Romans, glimpsed another time and place being transported through history by the considered and thoughtful presentation by Paul. This tour met the needs of lovers of history and academics alike. Leanna, Melbourne Australia
CATHOLIC EDUCATION SCHOLARSHIPS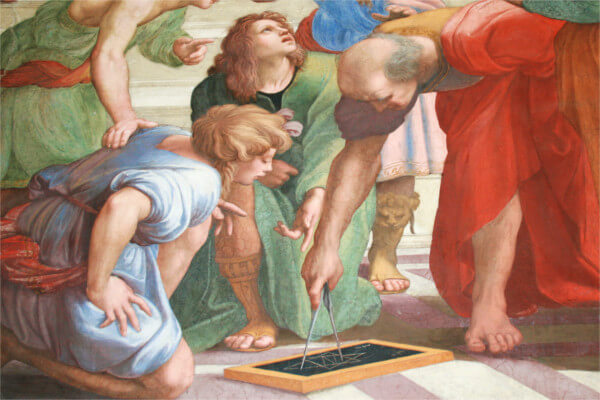 Help Fund Scholarships For Catholic Education
Posted by Tom on Apr 11 2015
$6560.00
Pledged of $15000 goal
LATEST NEWS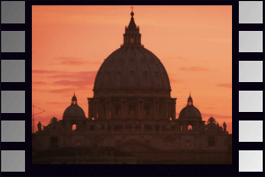 updated on 17th April 2018 by Eternal City Tours
Find out when and where you can hear Holy Mass in English whilst you are staying in the Eternal City of Rome. This article includes both weekday and Sunday Masses and was updated in April 2018.
Read Article
PLANNING A PILGRIMAGE TO ROME?
Simply let us know and our team of specialists can work with you to formulate a fabulous custom itinerary. We take all of the stress away leaving you to enjoy your Rome pilgrimage in peace. With our help, this will be the trip of a lifetime...!