There are 4 main forms of Public Transport in Rome, namely: Bus, Metro, Tram & Train.  This article tells you everything you need to know about using the bus in Rome.
You may also be interested in our complete Guide to Travel Around Rome which also deals with how to arrive into Rome.
Rome's Bus Company – ATAC
The public transport system in Rome is run by a company called ATAC which is notorious for its regular transport strikes (sciopero), overcrowded buses, ticket inspectors that target tourists despite the fact that virtually no-one else pays, and corruption.
Although many major tourist attractions are located on a metro line (thanks to the advantages of being a dictator like Mussolini and not caring about what the line goes through), in the ancient Rome centre, there are sometimes no option but to get use the bus to get around Rome.  The much heralded and long awaited C line is still not active due to archaeological complications and financial disasters.
However, if you do take the bus, especially from Termini to the Vatican, don't expect to get a seat unless you're very lucky.  Rather than let it spoil your holiday however, soak it up and enjoy the Italian atmosphere!
Rome Public Transport Strikes (Sciopero)
Using the bus in Rome is never an easy experience but this is especially true when there is a transport strike.
Rome's transport strikes primarily occur on either Fridays or Mondays when the weather is nice, which makes it feel as if it's perfectly designed for the staff to enjoy a long weekend at the beach.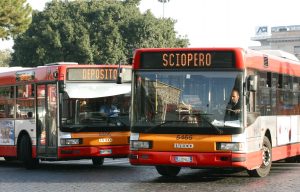 The latest strikes have been called in protest over Italy's controversial Jobs Act whose reforms are designed to create greater flexibility in the Italian labour market.
Trade unions describe it as an "indiscriminate attack" against workers, endangering contracts as well as promoting privatisation and restricting the right to strike.
Invariably there isnt much warning either, but the best place to keep tabs on whether there will be a strike is http://www.wantedinrome.com/news/
As bad as strikes are, public transport services will run as normal from 05.30-08.30 in the morning and from 17.00-20.00 in the evening to deal with the rush hour workers who are also using the bus in Rome.
Rome Bus Hours
When ATAC workers are not on strike, then the normal bus hours in Rome are from 5:30am until midnight.  However, even then certain routes operate a night bus reduced service along the major routes.
Rome Bus Tickets
This is what a bus / metro ticket looks like in Rome:
Where To Buy Bus Tickets in Rome
Bus tickets are the same tickets that are used on the metro / underground too.
Tickets can be bought at:
 Tabachi which are like newsagents with a large "T" sign outside.
Ticket machines in metro stations or near the major bus stops
A new APP for smartphone system called BIPiu which enables you to buy the tickets through your phone
Bus Ticket Prices in Rome
There are different types of tickets for using the bus in Rome that operate on a time basis.  These are as follows:
100 minute ticket (€1.50)
24hr ticket (€7)
48hr ticket (€12.50)
72hr ticket (€18)
Buying the ticket however is not enough.  You also have to validate it by putting it into the yellow machines on the bus that stamp it with a time code.
Rome Bus Routes & Stations
The main bus routes in the centre of Rome can be found on this latest map released by ATAC.
Popular Tourist Bus Routes
The major station in Rome is obviously Termini station which is the main transport hub of Rome.  Popular tourist routes running from Termini include the number 64 to the Vatican (warning this gets extremely busy) and other routes that converge on Largo Arentino or go past the Coliseum.
A good feature of ATACs website however is the ability to calculate your route.  You simply enter where you are starting from and where you want to get to, and the website will give you detailed instructions on what bus routes to take and probably journey times.
This is available on their website as "Route Planner".
Please follow and like us: