Love is in the air…To celebrate we have created some fantastic Romantic and Valentine tours for you to lavish upon your loved one.
Perfect as a gift for Valentine's day, a Wedding Gift or an Anniversary Gift, these experience would also be ideal for an unusual St Valentine's Day gift that gives a memory and not just something boring like flowers or chocolates:
St Valentine's Day Tour
If you're sick of the oh-so cliche Roses or Chocolates this Valentine's Day why not buy your loved one a special VIP romantic tour in the city of romance – Rome.
What could be more memorable than seeing the SKULL of St Valentine – obviously not the most romantic thing to see, but certainly a memory that you'll talk about for years!
To balance it out though and actually provide some Romance, this tour also has stunning romantic views across the rooftops of Rome at sunset in addition to stories of heroic love, and finally ends in the atmospheric and charming district of Trastevere that seems to scream "Kiss Me!"
Check out the St Valentine's Day Tour Description in our tours list for more info.
VIP Romantic Tour
Don't want to be so riské as to see the skull of St Valentine but want some good old fashioned romance…?   Then don't worry, we also offer this fantastic VIP Romantic Tour which includes:
the romantic poets,
the Spanish Steps
the breathtaking Trevi Fountain
the Pantheon
quaint Piazza Navona with its gorgeous fountains and statues
finished off with a lovely rooftop aperetivo at sunset sharing a bottle of bubbly!
All of our tours can also be given as high quality gift certificates which you can give on your special occasion but redeem at a time of your choosing within the validity period!  What could be better than opening a Valentine's Card to find this stunning gift inside?!
Check out the VIP Romantic Tour Description in our products list for more info.
VIP Romantic Tour from a horse drawn carriage
Slightly more extravagant, this tour is the same as the one above except that you can feel like a prince or princess journeying in a romantic horse drawn carriage to your first destination.  Don't be boring…splash out for your loved one.  One simply has to book the VIP Romantic Tour and then shoot us an email to say you'd like this add-on included as well.
Rome at Sunset Tour
Ideal as a complement to a romantic trip to Rome, this sunset tour includes as many of the highlights of Rome as feasible whilst not forgetting that the word "romantic" actually comes from the French "Rome-antique" which means Ancient Rome.
Rome truly is synonymous with love and romance, so you should show your loved one as much of it as possible.  Of course the end of the tour really helps you see everything in panoramic glory with a romantic glass of bubbly on a specially chosen rooftop terrace overlooking the charming rooftops of this Eternal City…
Read more about our itinerary in our Rome Sunset Tour Description.
Simply relax and enjoy the gorgeous Roman sunset…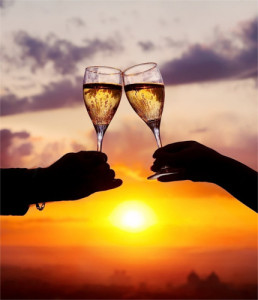 Please follow and like us: